Family Ties: The Hamiltons
By Randy Paquette
It's a cold and snowy Thursday afternoon in early April – all too common weather this spring. We are making the drive up to Hamilton Farms, home of Gail and Rob Hamilton. Tim Harvie is at the wheel. A member of the Edge School Foundation Board of Directors, Tim has known the Hamilton family for years and has travelled the country road to their farm many times.
We turn on to a long driveway and Tim explains a bit about the Hamiltons. They have worked hard over the years to build a leading cattle farm. Hard working, honest people. Well respected in the community. We pass by the Hamilton Farms sign, then an impressive workshop building. The Hamilton home is perched on a small hill with a 360-degree view of the surrounding farmland.
As we pull up to their home, I am not surprised to find several hockey sticks on the porch. A week has passed since the Humboldt tragedy, and the Hamiltons are a hockey family. Wyatt (Class of 2006), Wacey (Class of 2008), and Joel (Class of 2012) all played hockey at Edge and graduated from the School. Gail and Rob meet us at the door in Edge Mountaineer jerseys. Today is also jersey day across the country, in honour of the Humboldt Broncos. The Hamiltons could have worn any of their sons' jerseys – the boys have played for several AHL, AJHL, WHL, U Sports, and ACAC teams. Edge jerseys are a nice touch for this visit.
Sitting down with Gail and Rob, our conversation quickly turns to some of the recent adventures of the Hamilton and Harvie boys. There's a story about a weekend gathering involving baseball, biker costumes, and plenty of laughs. Another tale ends with a broken office chair at the Harvie home, carefully repaired with duct tape. I sense the stories could go on for hours – and these are just the ones the parents have heard. There is an Edge School angle to most of the stories. The boys have stayed close with many of their Edge classmates and teammates over the years.
The Hamiltons explain how they were just getting their farm off the ground when they were approached by former Edge CEO, Brent Devost, about the school. Rob explains that "they never thought private school was in the cards, but once the boys started going to Edge, the benefits were clear. It was a tremendous environment."
Wacey was the first to attend Edge, starting in grade seven. Wyatt followed a year later, in grade ten. Joel, a few years younger, began in grade six, Wyatt's final year at Edge. With long hours on the farm, not to mention travelling to cattle shows, scheduling for the boys was a bit of a magic show. Rob explains how Gail somehow managed to work out a schedule, often relying on the help of other Edge families like the O'Haras, to get the boys to and from school.
I ask Gail and Rob if I can tell the family's story from their perspective, or whether I should talk to Wyatt, Wacey, and Joel. The boys will welcome the opportunity to talk about their experience with Edge, they tell me. Gail provides me with contact information for each of the boys and says she will let them know I will be contacting them.
The next day I reach out to each of the Hamilton boys with a text message. I anticipate it will take a couple days to hear back, but within minutes Wyatt, Wacey, and Joel get back to me. I suspect it's not my charm, but a clear instruction from mom they know to follow. That and, as I learn, a true appreciation for their time at Edge and everything their parents have done for them.
In conversations with each of the three boys, I learn more about the importance of family, growing up on a farm and, of course, hockey.
Joel explains that he was in the first grade six class at Edge. He started at the school with a few boys he knew from hockey including Coda Gordon (Class of 2012) and James Robinson (Class of 2012). Joel was the only one of the Hamilton boys to attend Edge School's new campus, which opened in the fall of 2008. He jokes that the school was not quite ready when students moved in that fall and "it built character, being part of that process."
In addition to the trip to Boston with his class, Joel's favourite Edge memories include a grade eight tournament in Burnaby, where Wacey, Brandon Fagerheim (Class of 2008) and Ian Harvie (Class of 2008) were assistant coaches. For that matter, Joel says, "any trip we ever went on is a favourite memory."
All three Hamilton brothers explain that as they have gotten older, the support they receive from each other has become more important. When they were young, they had the typical brother battles, often on the outdoor rink their dad built for them every winter. Wacey acknowledges some of the liberties the older brothers took with Joel, explaining that "we would often throw him in net and fire pucks and lacrosse balls at him."
Despite those experiences, or perhaps in part because of them, Joel says that he always looked up to his older brothers, especially when it came to hockey. "With their experiences, they were able to provide good insight as I looked at my next steps in hockey."
As the oldest brother, Wyatt led the way. In his final year at Edge, Wyatt played with Camrose, where he competed for four full years with the Kodiaks. From there, he went on to UBC, playing with the Thunderbirds and earning his business degree in finance and logistics. As Wyatt explains, Edge played a big part in his development. "The flexibility to play junior and come back to the school, to fast track, and to focus on what you want to do were all so important," he explains.
Wacey and Joel would follow similar paths to junior hockey and were able to draw on Wyatt's experiences. Today, Joel has completed business studies at SAIT, earning the ACAC Men's Hockey Top Scholastic Achiever Award, and is exploring options to play in Europe next season. Wacey is an assistant captain with the AHL Utica Comets. He was married in 2015 and has a ten-month-old daughter. Wyatt is building his career in the oil and gas industry, working in marketing with Whitecap Resources. They have all stayed in contact with several of their Edge classmates and call them lifelong friends.
Wacey says that, while he has nothing but fond memories of his years at Edge, three memories stand out. First was a Bantam AAA tournament he played in with an Edge team loaded with talent: Tyler Myers, Joe Colborne (Class of 2008), Brandon Kozun, to name a few. He explains that "we went to the KIBIHT tournament in Kamloops and beat some elite teams. We played a stacked Russian team in the semi-finals and beat them 2-1 and I will always remember that."
His second memory is winning the Kyle Stuart Memorial Award for Leadership. Wacey explains, "Kyle was always so good to me. He took me under his wing and he would drive the younger guys to the rink. Receiving the Kyle Stuart Award was a huge honour."
Finally, graduation is a lasting memory. As Wacey explains, "it was such a great celebration and a happy time, but also a sad time, knowing that we were going our separate ways."
Having spoken with the three Hamilton boys, it is easy to see why they have all been leaders on their teams, often asked to take on captain roles. Each of them acknowledges the importance of family and the influence of growing up on the farm. As Wacey explains, "I 100% think there is no better way to grow up than on a farm. Every child should be able to experience it. At times I hated it, but there is no chance I would be where I am without that upbringing. My trademark is my work ethic, it is what has allowed me to make it to this level and stay at this level."
And then there is mom and dad – Gail and Rob. Resting proudly on the mantle of the Hamilton home are photos of their three boys. The photos tell you a lot about the Hamilton family and their values. There is Wyatt in action with the UBC Thunderbirds hockey team. Next to his photo is Wacey in Binghamton Senators gear. On the right is Joel when he was with the Red Deer Rebels. Underneath the photos is a piece written by each son to his parents, personal thank you messages to Gail and Rob for years of sacrifice and for helping them become better people and players. Wyatt, Wacey, and Joel know they couldn't have had better role models.
Kaitlin Hrudey Visits Edge School for Mental Health Week
On Wednesday, May 2, as part of Edge School's Mental Health Week, Kaitlin Hrudey (Class of 2011) visited Edge School and spoke with our students about her experience with mental illness.
While most of her friends and classmates didn't know it, Kaitlin was diagnosed with Obsessive Compulsive Disorder (OCD) and severe anxiety when she was 11. After working with a psychologist through her middle school years, Kaitlin explains that when she began at Edge School in grade ten she was "having more good days than bad."
Edge School provided an environment where she could study and pursue her passion for dance, but dealing with her mental health issues continued to be a challenge.
Today, Kaitlin speaks openly about her challenges and she has found strength and support in reaching out and asking for help. However, going public with her mental health challenges initially seemed risky. She explains, "At first, my parents were nervous about the hate and the negativity that can come on social media, but I decided to take the risk. To this day, I have had only positive comments. It has just been so incredible; I can't thank people enough for supporting me."
During her presentation at Edge School, Kaitlin explained that she speaks about her mental health issues in the hope that she can help reduce the stigma associated with mental illness and perhaps help others who are facing their own challenges.
After she spoke, she opened the floor to questions. Students, particularly students in the younger age groups, had several questions for Kaitlin. She handled the questions gracefully, with patience and honesty.
One student asked Kaitlin if her OCD is as bad now as it was when she was 11. Kaitlin replied, "No, because I have the tools now that help me to stop my obsessive thoughts from becoming too obsessive." She added, "Having someone to talk to like my parents and my sisters has really helped a lot. They keep me calm and help me rationalize the obsessive thoughts that I have."
Kaitlin's story is a personal one, and it carries an important message: it can get better. "I want everyone to know that if you are dealing with mental illness, it can get better, and I am an example of that."
Doug McDonald, Class of 2010
"Use school as a vehicle to see more of the world."
Doug McDonald (Class of 2010) is not afraid of a challenge. A master's student at Karlsruhe Institute of Technology (KIT), a leading engineering research university in Germany, he is making the most of an amazing international study experience.
"I was fortunate to receive a scholarship to do an internship in Germany after my second year at the University of Calgary. It was a great experience and really opened my eyes to international opportunities," Doug explains.
Returning from his summer in Germany motivated to complete his Bachelor of Science degree in Electrical and Electronics Engineering, Doug graduated from the University of Calgary in 2017. He laughs when asked if he envisioned this path when he was a student at Edge School. "I didn't imagine I would be in Germany. It's wild to look back and see where I have gone."
Doug's Edge School experience started in grade seven, when classes were held at the Calgary French and International School. "I remember every Friday playing 3 on 3 hockey with students from different grades. It was a bigger age spread than what I was used to, but it was great to meet people who were like-minded," Doug says. "I had a great time at Edge. Playing on the Varsity team in grade 12 was the best year I ever had in hockey, the most fun. Tanner Hicks, Bart Moran, Chase Paylor – we had a great group of guys."
Doug continued with hockey after Edge, playing in the AJHL in Fort McMurray and with the Calgary Mustangs before attending the University of Calgary full time. He was ready for a new challenge after university and returning to Germany seemed like a great fit. "Why not use school as a vehicle to see more of the world? You can learn a lot by taking a step out of your comfort zone," he explains. "And I like the challenge of learning a new language."
Doug began at KIT in October 2017, working on his Master of Science degree in Optical Engineering. It is a challenging program that he anticipates will open up career options all over the world. "The attitude toward research is pretty serious in Germany," he explains. "But it is interesting work. Right now I'm working on a project in medical imaging, using infrared signals to take x-rays in a less invasive way."
Reflecting on his time at Edge School, Doug encourages current students not to limit themselves. "I know those moments in high school when school can be a bit of a chore, but sticking with it and finishing a university degree gives you a foundation that can get you into some pretty cool opportunities."
Doug expects to write his thesis and finish his degree in September 2019. In the meantime, he'll keep working on his German and using his education to see more of the world.
Danelle Tucker, Class of 2015
Danelle Tucker is a professional ballerina with Ballet Tucson. She graduated from Edge in 2015. We caught up with her recently to learn about her Edge experience and where her career has taken her since graduation.
Q: Tell us about your decision to attend Edge.
A: Prior to Edge I was at the School of Alberta Ballet. Karen Gosbee, a friend of the family, encouraged me to explore Edge. I took a class with Edge Dance instructor Caitlin Lockwood and liked the open, welcoming atmosphere. Caitlin and Cyndi Scott (Edge School Artistic Director) were very encouraging and ultimately were a big part in preparing me both mentally and physically to pursue a career as a professional dancer.
Q: In what other ways did Edge support your development as a student-athlete?
A: Ballet can be very critical – an 'only the strong survive' environment. Edge really helps you get up to the standard of what your job is going to be as a professional. It helps when you grow up in a really good environment. Also, balancing school and dance can be a significant challenge for dancers. You need to miss a lot of school for auditions, many in the U.S. Edge teachers understand this and are able to support you as a dancer.
Q: You graduated in 2015. What have you been up to since graduation?
A: After graduating from Edge I was able to land a job in a professional ballet position right away. I did my first year of post-training at the Pittsburgh Ballet Theatre. After that, I moved to Ballet Tucson. The benefit of a small company like Tucson is that you are able to get a lot of dance experience. If I were to use a hockey example, it is like being on a farm team where you are able to really develop.
I also continue to come back to train at Edge in the summer. With my contract at Ballet Tucson, I have a six-month layoff in the summer and the Duckett Centre program for dancers has been a big help in keeping me prepared.
Q: Why is international experience important for dancers?
A: This is one of my favourite topics to talk about. Calgary is getting better, but it is still relatively sheltered. You don't see what the competition is like until you are out there living it. It is important to challenge yourself because there are so few jobs and so many dancers out there who want one. If you really want a career, it is imperative to have international experience. I owe a lot of my success to expanding my perspective.
Q: What about working with dancers from different places? Is this challenging?
A: The language of dance is universal, but it is still a little difficult to adjust because different places have different styles of teaching and dancing. For example, training in Europe can be a bit more aggressive. Still, working together and blending in is a key in moving up in your career. Dancers from Canada are known for having a clean technique and being very adaptable. Caitlin Lockwood emphasized the importance of technique when I was at Edge and this has served me very well.
Q: You are just a couple years out of high school and living on your own in Arizona. What is this like for you?
A: Actually, when I finished high school I felt ready to spread my wings. For me, it has been really important to get away and learn what it is like to be independent. Each year I am away from home I learn something new about myself.
Q: Where do you see yourself in five years?
A: I want to dance as long as I can. In five years, I see myself moving on to a bigger dance company and progressing as a professional dancer. Some day, I see myself teaching dance and having a big resume of professional experiences. Beyond that, I am balancing dance with continuing my education. I am taking a course through SAIT in Water Management in Hydraulic Fracturing. Calgary is my home base. I will be back this summer and hope to do some dance teaching at Edge School.
Q: What advice would you give to aspiring Edge student athletes?
A: It's incredibly tough securing a professional ballet contract as the competition is fierce for any professional athlete! Thanks to my training and continued support from the Edge Dance Studios and the Duckett Performance Centre during my off season, I have been able to secure a returning contract with Ballet Tucson. This is a good reminder to up and coming dancers at Edge, and to any athlete for that matter graduating out of the Edge, that with hard work and perseverance, anything is possible.
Sang Lee, Class of 2010
Playing for Money: Sang Lee's Road to a Professional Golf Career
Spend some time with Sang Lee (Class of 2010) and you will learn a lot about the ups and downs of making your way as a professional golfer. Sang is as thoughtful as he is determined, and knows there is not much separating the top golfers and players at the next level. "If you talk to professional golfers, the difference between the top players and the next level is a fine line," he explains. "Just having the opportunity to play the top tours is a big thing. It's all I am missing."
To get that opportunity, Sang is returning to Asia for a second year to develop his pro game. He explains that "for someone just starting out in their career, the North American tours are costly. In the fall of 2016 I went to the Asian Tour Q school and played in a number of Southeast Asia tournaments: Thailand, Malaysia, Philippines, Indonesia, China, Japan, Macau, and Taiwan."
It wasn't that long ago that Sang was a Calgary kid with big dreams of a professional golf career. In high school, he had chosen Edge to help him on that road. "I really followed Randy Robb (Director of the Edge School Golf Program) to Edge," he explains. "I had gotten to know Randy through Alberta Golf and Edge seemed like a better opportunity for me to be able to focus on what I wanted to do. It allowed me to play more, practice more, and have an extra person guiding me."
The plan worked. After graduation, Sang was offered a scholarship to attend Washington State University (WSU) and play on the men's golf team. Although the jump to a Pac-12 university was a challenge, Sang feels that Edge had prepared him well. He says that "if it wasn't for Edge, I would have had a tough time getting to Washington State, a Division 1 school. I didn't know how that worked. Conversations with Dr. Matt Brown (Edge School Sport Psychologist) and Randy Robb about applying to NCAA schools really helped me. This is probably one of the biggest benefits of Edge, the strong experience the school has with U.S. colleges."
Other aspects of his Edge experience also helped him along the way. As Sang explains, "Access to facilities and being around other golfers was so important. A couple other guys like Scott Lowe (Class of 2010) had the same vision as me and we would push each other. Washington State is a big place, and it is really an amplified version of Edge School. The routine you build at Edge prepared me well."
Still, competing in the Pac-12, the toughest conference in U.S. college golf, was a difficult adjustment, Sang explains. "In terms of golf, I went through a poor playing phase when I began at Washington State because I had changed a lot about my game. It was only in my sophomore year that I began playing in tournaments. In my senior year I had a few top tens and a win."
That win was a big confidence boost, especially considering that several of the golfers Sang competed against have gone on to the PGA tour: Michael Kim, Patrick Rodgers, and Jon Rahm, among others. "John Rahm was in the field when I won in my senior year. Others are on the European Tour. Being around those players and having played the same courses under the same conditions, you are able to gauge where you are against the best in the world. I realize I am not that far away," he explains.
Returning to Asia this February, Sang has his sights set on a strong year. His first event for 2018 is the Solaire Philippine Open, the country's main tournament with a purse of $660,000 USD. The tournament runs from February 28 to March 3. After that, he will play in Asian Development Tour and Thailand Tour events. Altogether, he expects to compete in 20-25 tournaments from February to December.
From a developmental perspective, Sang sees playing in Asia as important preparation for any professional. He explains that "playing in Asia can really help you learn to play professional golf, to learn how to play for money. Getting experience on tour life, the schedule, etc., can be very stressful. Playing for your livelihood is a whole different thing to learn. I have always liked it when there was more than just a score on the line. The more experience you have with this, the more comfortable you will be."
Moreover, golfing in Asia presents its own unique challenges. Sang says that "learning how to travel has been huge. There is a huge language barrier. Booking a taxi and changing flight tickets can be tricky. Being careful where you eat is so important – I have had food poisoning three times. The first year was a lot of learning and it can all impact your stress and energy level. Now I am way more comfortable. I think in my second year I will have a lot more success."
Sang recently enjoyed a few weeks in Calgary before heading back overseas and was glad to spend some time at Edge School. He explains that he was back home and back at Edge "just trying to get healthy. With a history of back pain, I know I have to take care of my body. Working with Ross McCain (Manager, Duckett Performance Centre), Brady Greening (Head Athletic Therapist), and Dr. Brown is a big help." 
While his goal is to gain experience and make enough money to come back and play in the Web.com and PGA Tours in the next 2-3 years, Sang values his experience in Asia, explaining that "from what I know now, I think Asia is a great opportunity. Students just coming out of university need to broaden their knowledge of different tours."
Although his road to professional golf has taken him far from home, Sang is quick to recognize where he came from. He emphasizes that "even though I am golfing internationally, I am out there trying to represent Canada, Calgary, the Edge School, and Washington State."
Q&A with James (Jim) Molloy, Class of 2004
Jim Molloy (R) with Lindsey Boulter. 2016 Hockey Arbitration Competition of Canada winners. Thirty-two teams from leading North American law schools competed.
The Stachiw Brothers and the Evolution of Edge School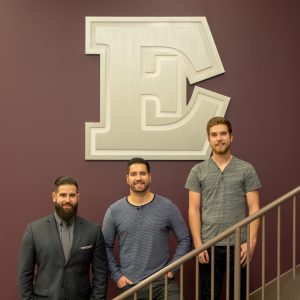 Stachiw brothers from left to right: Tom, Chris and Pat.
Q&A with James (Jim) Molloy, Class of 2004
James (Jim) Molloy attended Edge School for his last year of high school and graduated in 2004. We caught up with him recently to talk about his time at Edge and to find out where he is now.
Q: Tell us about your path after graduating from Edge.
A: I graduated from the University of Calgary Law School this past June and I am currently articling with Calgary Legal Guidance. Prior to attending U of C, I completed my Bachelor's degree at Ryerson University in Toronto.
Q: You played on the 2003-04 Midget Varsity Hockey Team. How are you involved with hockey today?
A: I have continued to be involved with the game and I have been a coach for several years. I am currently an assistant coach for the Midget Elite Fire hockey team in Calgary.
Q: How did Edge School help prepare you for the next steps in your education and career?
A: Edge gave us a lot of exposure to different opportunities, particularly U.S. college opportunities. In our 2003-04 year we went to Boston, Idaho, and Ohio, among other places. Boston was a great experience, visiting Harvard and Boston College. Meeting legendary Boston College coach Jerry York was certainly a highlight. We had the opportunity to write our SATs in Ohio. Edge School arranged a prep session for the test – help like that made a big difference.
Q: Can you tell us about a memorable experience from your time at Edge School?
A: We sure packed a lot into our grade 12 year. There was a game in Nanton when the heater on our bus quit working in -32-degree weather, and a tournament in Idaho when Tom Collister broke a pane of glass with a slap shot – twice.
The death of our captain, Kyle Stuart, impacted our team and the School in a profound way. Kyle was such a strong leader. I remember struggling as a group to determine whether we should choose a new captain. Brendan Hull was chosen as the new captain and he did a great job honouring Kyle throughout the remainder of the season.

Q: What does the emphasis on character at Edge School mean to you now, more than a decade after graduating?
A: The work I do now can often be high effort, high reward, and it can have high stakes. I think my background in sport and my time at Edge taught me the importance of preparation and how to perform when things get tense. If you prepare well, when game time comes you can just play. I think that applies on the ice and in the courtroom.
The Stachiw Brothers and the Evolution of Edge School
The story of Edge School is one of inspiration and evolution. From the early concept of our founders, who envisioned a school where student-athletes could thrive, through the various stages in our growth and development, the steps that we have taken as a school have been made alongside those of our students and families.
Take the Stachiw family, for example. Three of four Stachiw brothers attended Edge School over more than a decade, from 2001 to 2014. First, there was Tom (Class of 2007). He was followed by Chris (Class of 2010), and then Pat (Class of 2014).
Tom began at Edge in 2001 in grade seven, choosing Edge for the small class sizes, the personal attention from teachers and coaches, and based on his passion for hockey. His Edge School experience reflects the early days of Edge, when we were still located at Calgary Academy and the Calgary French and International School (CFIS). Tom's path took him to junior hockey, including time with the Calgary Royals and Canmore Eagles. Recruited to the University of Wisconsin-Eau Claire, Tom completed his degree and returned to Calgary in 2014. He was married in 2015. Now working as an Investment Advisor with McLean and Partners, Tom is still connected with many of his Edge classmates. For example, he looks forward to Tommy Adair's (Class of 2007) annual ugly Christmas sweater party in Calgary each year. As part of the downtown business community, Tom often bumps into fellow Edge alumni in the Plus 15 and sees a growing professional network of Edge graduates.
Chris Stachiw graduated from Edge School in 2010. He explains that his hockey experience at Edge was similar to Tom's, where the Varsity team would play a schedule heavily weighted with tournament and exhibition games. However, Chris also attended the School during a significant growth and transition period. After attending his first two years at CFIS, Chris had the opportunity to finish high school at the new campus, which opened in 2008.  After graduating from Edge, Chris played in the AJHL for four years with Canmore and Olds, then attended school in Vermont for one year. He is currently completing his final year at Dalhousie University in Halifax and will graduate with his Bachelor of Commerce degree in 2018. Chris plans to return to Calgary and has his sights set on law school.
Pat Stachiw is a 2014 Edge School graduate. Like his brothers, Pat was a hockey player. Unlike his brothers, all of Pat's time at Edge was in the current facility. Another notable difference was the nature of the hockey landscape for Pat. Since 2010, the hockey program has become much more integrated with the Canadian Sport School Hockey League, providing a more regular league schedule. Like many recent high school graduates, Pat has been finding his way over the past few years. He has attended university on both sides of the country, first at the University of Victoria and then at St. FX in Nova Scotia. He is now back home in Calgary and attends Mount Royal University. He is enjoying MRU and compares its small class sizes and community feel to the Edge School environment. Pat plans to study Criminal Justice at MRU and pursue a career in Calgary.
Together, the Stachiw brothers reflect the evolution of Edge School. Tom attended Edge in its formative years, among the group of early adopters who embraced the School and helped build its culture. As Chris and Pat followed, the seeds that were planted, not only by teachers, coaches and staff, but also by our students and families, have grown to create a strong culture that thrives today.
Our students and alumni have had – and continue to have – a remarkable opportunity to learn and develop in an environment that is built on a strong set of values and grounded in a passion for sport. As Tom explains, "when you meet someone in business, you can tell in the first five minutes whether they have been a member of a sports team." The Edge culture of personal excellence in academics, athletics and character builds future leaders. Alumni are the face of Edge School and the true measure of our success and we look forward to telling more of your stories and staying connected as you take the next steps in your lives and careers.
Share Your Story
Have you recently landed a new job, relocated to a new city or country, or tied the knot? Let us know so we can share your news with the Edge community.