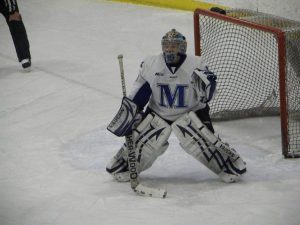 Marian University is a small liberal arts university in Fond du Lac, Wisconsin. Founded in 1936, Marian has an enrollment of approximately 2,000 students. Marian student-athletes participate in the NCAA Division III level in several sports, including hockey. Over the past decade, no less than a dozen of Marian's students have come from Edge School to play for the Marian University men's hockey team, the Sabres. We reached out to a number of our alumni to talk about the Edge-Marian connection.
Cullen Caldwell (Class of 2004) was the first Edge Mountaineer to attend Marian. A goalie, Cullen holds an impressive record with Marian, going undefeated (10-0) in his senior year with the Sabres. After graduating from Edge, he played with a number of junior teams in BC, Saskatchewan, and Ontario over a two-year period before beginning at Marian in 2006. He explains that Edge School staff prepared a video of the 2004 Midget team that caught the eye of several colleges, including Marian.
"My dad and I researched the NCAA Division III schools that had Canadians on their rosters and made cold calls. Marian was impressed with what they saw and made me an offer," Cullen explains. The rest, as they say, is history.
Cullen was joined at Marian by his good friend, Brendan Hull (Class of 2004), in 2007. The story of Hull's path to Marian demonstrates how personal connections kick-started a recruitment channel that would grow stronger over the next few years. "After my first year at Marian I brought a couple U.S. players up to Stampede," Cullen explains. "Brendan hung out with them and he liked the group."
Word of mouth among friends led several other Edge alumni to make their way to Marian in 2008 and 2009: Lane Boswell (Class of 2005), Justin Cormier (Class of 2005), and Nathan Brummitt (Class of 2004).
In 2010, the group was joined by a sixth Edge alumnus, Rich Hilton (Class of 2008). Rich would go on to attend Marian from 2010 to 2014 and graduate with a degree in Biology and a minor in Exercise Science. He played on the Sabres from 2010-2013. Although an injury ended his playing days, he became an assistant coach with the team in his final year. He has also taken on a leadership role in keeping the Marian Men's Hockey Team connected, managing the group's social media channels.
In many ways, Rich is the historian for the Edge-Marian connection, able to tell stories about when and how students were recruited and the impressive stats that Edge alumni achieved at Marian. Among the early group of recruits to Marian, notable achievements included: Brendan Hull – 3rd all-time for goals scored (59) and 1st all-time in penalty minutes (331); Cullen Caldwell – undefeated in senior season (10-0) and 5th all-time GAA (2.69).
There was soon a second wave of Edge alumni to arrive at Marian, and the new recruits would make their own mark. Ian Harvie (Class of 2008), Scott Milnthorp (Class of 2010), Hunter Stewart (Class of 2011), Curtis Lewington (Class of 2011), Derek Thorogood (Class of 2011), and Scott Salberg (Class of 2012) all followed the path to Marian. Thorogood would go on to become Marian's all-time leader in games played (111), and Stewart would graduate from Marian tied for second in all-time assist (80).
Scott Milnthorp notes the similarities between Edge and Marian, particularly the small classes and strong athletics culture. "Edge was the perfect school for a young student-athlete like me," Scott explains. "It really helped prepare me to succeed and Edge is highly regarded at Marian."
Scott graduated from Marian in 2017, finishing his playing career tied for 7th all-time in games played for the Sabres. Having majored in Marketing and Sport and Recreation Management, Scott now works for Tennis Canada as the Coordinator, Tennis Professionals Association and Tournaments.
Like Rich and Cullen, Scott speaks positively about the strong friendships that developed at Edge School and Marian and the great opportunity that both schools provided for students to pursue their passion for sport. Summarizing his experience, Scott explains, "Division III hockey is the best-kept secret. I was so thankful for the option to continue my education and to play hockey for Marian. If I had the chance to do it all over, I wouldn't change a thing – my Edge experience, junior hockey, and my four years at Marian University."