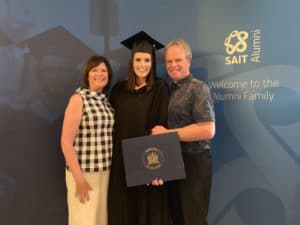 Taylor Forster (class of 2014) came to Edge as a competitive tennis player in Grade 6. The flex program offered her the schedule and support she needed to travel and train as a student-athlete.
In Grade 9, she found herself wanting to be part of a team and decided to switch her sport to volleyball. A natural athlete, Taylor became a key member on two different volleyball teams – the Edge School team and the Southern Alberta Volleyball Club (SAVC). She graduated from Edge as a very talented player, earning a full scholarship to the College of the Rockies in Cranbrook, BC – a school that reflected the close-knit community she had at Edge.
The College of the Rockies community included some of her teammates from SAVC, who she played with for nearly three years, until injuries kept her off of the volleyball court. In Cranbrook, Taylor earned her Marketing and General Management diploma while balancing the demands of college sports. After graduation, she returned to Calgary and completed her Bachelor of Business Administration (Marketing) at SAIT in 2019.
Today, when Taylor isn't on the job site or leading the marketing for her family's construction business, she can be found in a local boxing studio seven days a week. While she's started to train to step into a boxing ring eventually, she admits that her newest sport is at this point, just for fun. It's also a great way to stay active as she considers her next steps, including the possibility of law school this fall. We look forward to hearing what she decides!